Artificial Intelligence
Creative Technology
Instructor: Phil Van Allen
2021
Software: Unity, Delft AI Toolkit, Teachable Machine, Premiere Pro, After Effects, Photoshop
Aeode is a companion robot that likes to learn speech patterns, and recognizes sounds it learns through interactions with humans. The AI also interprets sounds into drawings. My intention behind this design is to give the sense of animism behind the robot, in order to create a bond between humans and AI. A key takeaway for me is to consider the relationship between human and AI, which allows for imaginative narratives that can ultimately change the way humans associate with technology.
Backstory:
Aeode is from the planet, Jupiter XLI, and is named after the greek muse of music and voice. The inhabitants of Jupiter XLI, all speak in noises. Aeode will remember and develop a language through its interactions with other vocal creatures. Specifically, they love strange abstract noises like the sound of blowing a raspberry, they can't help but join in by blowing a raspberry back. It's similar in the way that wolves howl in unison. Depending on the sound, Aeode will draw a specific line/ dot/ or zig zag and the colors are determined by vocal tones. Nobody is quite sure when the Aeode arrived on Earth, but we're happy it's here. Over time Aeode will learn to speak in your language, and will respond to it's name when you call it by lighting up it's LED's to signal it has recognized your call. If you scare Aeode it will leave a puddle of paint, so be careful not to overstimulate it.
Project Brief:

The design of the system will be done through the lens of a technology that has a specific or strange life-like personality, but not human-like. Using a combination of prototyping using the Deflt AI Toolkit, Wizard of Ozing, and video scenarios, students will create a robot that has adapted to help people (or at least try).

As a way to explore new approaches for AI and get past cliched design strategies, students must design their imaginary robot as if it already had a strange way of communicating and understanding the world. Because it has this background, it communicates and behaves in odd ways that may seem strange to earth based humans. Creating this backstory is part of the assignment. Your task is to create an intentionally strange, fictional UX persona.






Interaction Prototype
Interactions
Instructors: Elise Co and Sean Donahue
Off the Grid
2021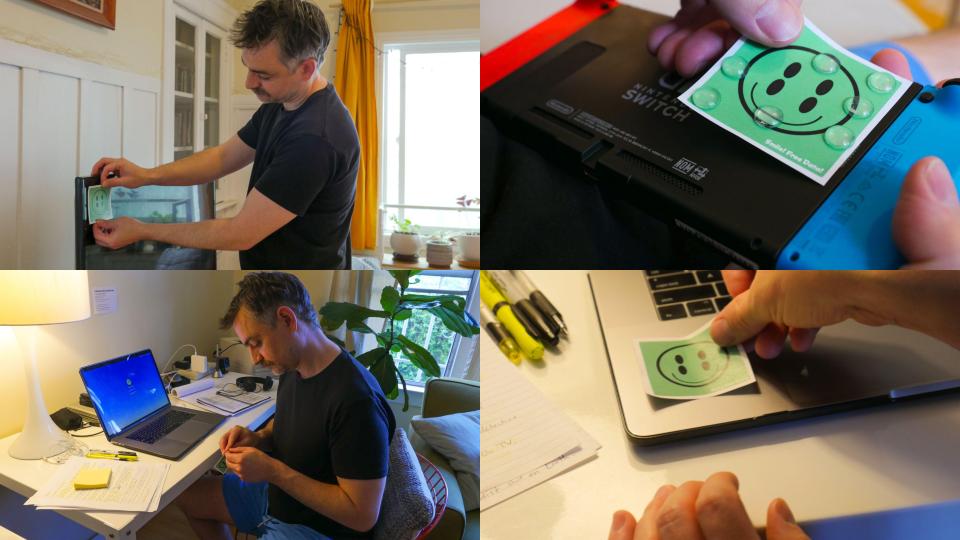 Software: Photoshop
That moment when you label ubiquitous data miners to stay aware of them, and you also label electrical technology that doesn't mine data, resulting in the discovery of spaces where you're not giving away free data and are considered "off the grid."
Project Discription :
Off the Grid is a game delivered as a sticker kit. The intention behind the game is to invert everyday ubiquitous data mining by attaching green stickers to data collectors. Data mining is a process of extracting and discovering patterns in large data sets involving methods at the intersection of machine learning, statistics, and database systems. Assigning a "scarlet letter" to the tech will help in demonstrating how often the participant shares through mobile devices, credit cards, gps, home devices, smart cars, living in smart cities/homes, etc. It will also help the user stay aware of what, where, and when each device is mining in their home.
The yellow stickers are intended to identify electronic technology that do not mine data and spaces where your data is safe. This way the user can potentially create a space in their home where the purpose is to be "off the grid" by staying away from data minors. As such the user is given back their right to choose where and when they want to share data, since it's hard to get around in modernity. If the user decides to bring a phone into an "off the grid" space the use is consciously making the decision to share data.
The intention behind the game is to create a sense of data ownership for the user. It's also intended to identify spaces in the home where you are actively sharing data, and spaces in the home that are mostly if not totally off the grid. Through my research I found that if a space is close to being off the grid in the user's home they can easily remove the single or few items that mine data. Creating a safe off the grid space in their home is intended to give them a sense of time off of the screen and away from sharing data.
Class Brief:

We will consider what "technology" is; explore ideas of prototyping in and with publics; and critically reflect on the resulting implications. Emphasis will be placed on what is being instigated and considered by the design propositions each student puts forward for an individual, community or public to engage with.


Project (including in-progress) critique will drive general discussion of terms, considerations, and the specifics of form as embodiment of idea. Discussions will include both the possibilities and limitations of each student's propositions as well as how the material and experiential choices embody the intent.


This class is intentionally designed to put students in the field, and to foreground a design and concepting methodology that is completely responsive and iterative. Assignments are not shared until they are assigned - this is by design, because our focus is on learning how to develop and re-develop ideas through on-the-ground observation and prototyping. We will practice generating ideas from OBSERVATION, not from preconceived notions or assumptions about people/situations/technology/
etc.



Filmmaking
Expanded Cinema
Instructor: Kate Parsons
2021

Software: Premiere Pro
Material: Panasonic GH4, CASIO CTK-150



Synopsis:
In Vessel, an Aquarian goddess casts a spell to rejuvenate the earth. She bathes herself in a tub of celestial magic surrounded by nature on the cusp of new growth.
Director Statement:
Vessel is inspired by "The Image of Objectivity," by Lorraine Daston and Peter Galison, which argues it is impossible to achieve pure objectivity in subjective processes of authors, scientists, and artists. In this work I asked artist and performer Eva Myra May to interpret the celestial figure from mythology, her zodiac, Aquarius in order to examine the objectivity of gender, sexuality, astrology and mythology.
Project Brief:
Create a short film using the theme of "Structure." The Final should demonstrate sensitivity to and appreciation for the technical and artistic merit of the moving image. Students can work in animation, video, or a hybrid of the two to create an original work that showcases their knowledge of the field. Students will also use the technological aspects of video to properly film a short documentary about their work for extra credit.
Objective:
Produce an original short film from conception to realization using a reading from your class with Prof. Barbosa. Students are free to create any kind of moving image work, about any subject matter in Critical Histories II, that adheres to a structure: Chronology, Mapping, Audio-driven, and Musical Structures are all acceptable. Criteria for a successful project are:
Follows the rules of basic videography (exposure, etc.) covered in class
Sensitivity to editing, proper lighting and framing/composition
A discernible and intentional structure
Approximate length: 1-4 minutes
IxD Prototype
Dev Studio 3
Instructor: Maggie Hendrie
2021
Software: Adobe Xd, Miro, Photoshop, Premiere Pro
bubbli Style Guide
bubbli Process Book
bubbli
is as a community for creative collaborators and manifests an idea that is bigger than the individual.
This prototype is a Miro plugin and integrates with Zoom for synchronous collaboration. It also integrates with music streaming services for a shared ambience experience. Ultimately enabling endless collaborative opportunities.
Features:
Bubble layers
Organizational views
Limitless zoom and scrolling
Merging and joining capabilities with other users

User Scenarios:
Providing expanded options for communication amongst bubble "mates"
Navigating bubble and posting content in a bubble
Group introduction and ideation in a shared bubble
Project Brief:

How can students and professionals collaborate creatively when we cannot work in the same physical space? Can we create screen-based tools, platform that fosters innovation, ideation and collective work for students at ArtCenter and beyond? What would this experience be like?