Trailer for GO CRUISING, featuring found footage, and music by Patrick Cowley.
GO CRUISING is an augmented reality "parade float" designed to occupy public space with homosexual affection. It celebrates gay culture, sexuality in public, queer history, and calls attention to erasure of all the above in Los Angeles history. From 1920 to the 1960s, Pershing Square, in DTLA, was at the center of what was known as "The Run," a series of bars, parks, public restrooms, hotels, and bathhouses in close proximity to one another, and were well-known places for LGBTQ+ individuals to meet and socialize. In addition to cruising for sex, the park provided a space for activists to discuss social issues during a time when homosexuality and transexuality were illegal. In 1951 the park went through a variety of design changes in order to accommodate a parking garage, and as a result, the lush landscape was removed. This removal functioned as a form of crime deterrent, as the queer sexual contact prevalent in this space was illegal.

This float nods to a time when gathering in secret was a necessity despite the serious risks to doing so. Unfortunately, it's still a risk to display homosexual affection in public - it's frightening to kiss, or even hold hands! This is because of widespread homophobia, toxic heteronormativity, and persecution that continues today. You can still see "No Cruising" signs directly linked to anti-homosexual efforts. GO CRUISING is designed to trigger when cars go "cruising by," to occupy public space, and make room for gay affection once again in DTLA. Although designed to celebrate only gay affection, my designs have been rejected repeatedly by Snapchat for its "sexual nature." The censored design accepted by Snapchat calls attention to a culture which perpetuates sexual repression... Which is an eerie similarity to the historical attempts at erasing gay history and gay sexuality.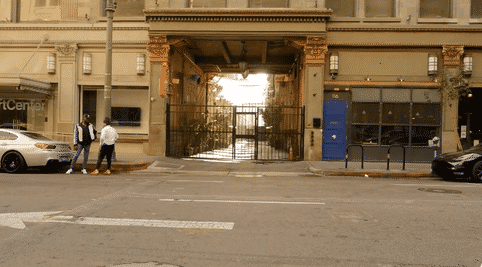 Portal for GO CRUISING may be experienced at

ArtCenter DTLA

or from anywhere by

downloading Snapchat

and scanning the code below.

Lens Creator: Alan Amaya